This post is for our students at the 2018 Tennessee Governor's School for the Arts in the Sketchbook Boot Camp Class, week 1.
Introduction, Assignment 1: Pamphlet Stitch Passports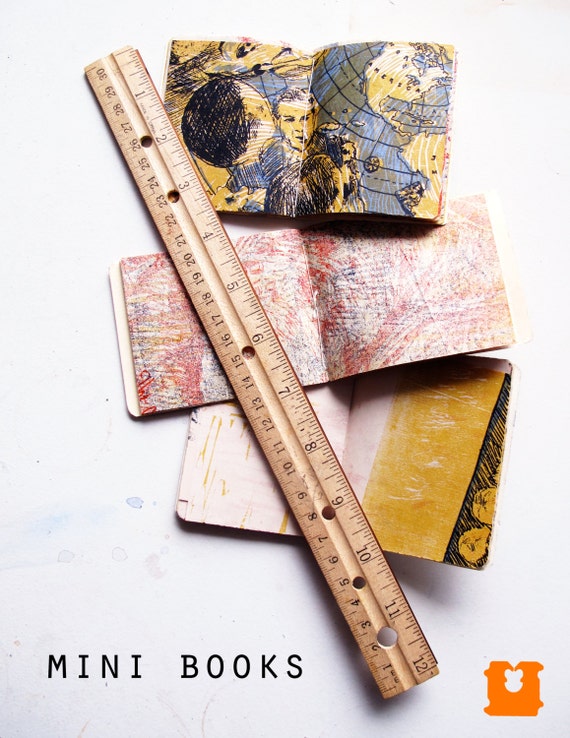 We begin with a brief book-binding tutorial, where you will learn to create Pamphlet Stitch Books. If you want to do the four-hole variation and need a refresher after the demonstration, check out our post, here: DIY Book Binding, Vol. 1: The 4-Hole Pamphlet Stitch Mini Book.
For the 3 hole variation, please see the diagram and directions below:
The Passport, History and Information
"I was always interested in history and I traveled a lot so every time when I had the chance I'd go to flea markets. It really started in Japan when I was looking around there and I found a really, really nice old Japanese passport from the Japanese Empire," Topol says. "I opened the book and it was almost in perfect condition and I saw a passport picture showing a young girl in a traditional kimono and it was just beautiful. I was really in love with this [document] so I bought it, and that was really the start of it all."
–Tom Topol, Read more at https://www.pri.org/stories/2017-03-09/every-passport-tells-story
"Etymological sources show that the term 'passport' is from a medieval document that was required in order to pass through the gate (or 'porte') of a city wall or to pass through a territory.[5][6] In medieval Europe, such documents were issued to foreign travelers by local authorities (as opposed to local citizens, as is the modern practice) and generally contained a list of towns and cities the document holder was permitted to enter or pass through. On the whole, documents were not required for travel to sea ports, which were considered open trading points, but documents were required to travel inland from sea ports.[citation needed]

"King Henry V of England is credited with having invented what some consider the first passport in the modern sense, as a means of helping his subjects prove who they were in foreign lands. The earliest reference to these documents is found in a 1414 Act of Parliament.[7][8] In 1540, granting travel documents in England became a role of the Privy Council of England, and it was around this time that the term 'passport' was used. In 1794, issuing British passports became the job of the Office of the Secretary of State.[7] The 1548 Imperial Diet of Augsburg required the public to hold imperial documents for travel, at the risk of permanent exile.[9]"
–Wikipedia, "Passport," Read more at https://en.wikipedia.org/wiki/Passport
"American consular officials issued passports to some citizens of some of the thirteen states during the War for Independence (1775–1783). Passports were sheets of paper printed on one side, included a description of the bearer, and were valid for three to six months. The minister to France, Benjamin Franklin, based the design of passports issued by his mission on that of the French passport."
–Wikipedia, "American Passport", Read more at https://en.wikipedia.org/wiki/United_States_passport
Check out these examples of beautiful passport art from around the world: http://www.travelandleisure.com/slideshows/most-beautiful-passports-art#2
The letterpress Trail Map by @Firecrackerpress
https://www.firecrackerpress.com/pages/letterpress-trail
The New Art of the Passport Tattoo

https://chrisguillebeau.com/passport-tattoo-art/

The Artist's Passport: Assignments
FIRST: Draw a mini-headshot or other form of self portrait. And somewhere on that page, list your:
hometown
number of people who live with you
names/types of pets
favorite book
least favorite subject (doesn't have to be a school subject)
artist(s) you want to meet
You choose how you want to layout this page and how you want to convey this information! Could be more text-based or image based, hand-drawn, painted, collaged, etc! Be creative with the interpretation of all of our assignments for maximum fun and learning!
THEN: Pick at least 3 of these to complete before we meet again! These should be explored in your new, hand-bound artist passport! You can draw more than one page on a single idea, or do more pages on individual prompts as long as you complete a minimum of 3 this weekend. Getting 5 done would be awesome!
By the end of Gov School, please complete at least 15 of the 20 below prompts.
Draw a portrait of a new friend
Draw a covert portrait of someone you haven't met yet (consider use of blind contour technique)
Your Least favorite animal, draw/painted/collaged in your favorite color(s)
What you had for breakfast/lunch/dinner
What your parents wished you'd had for breakfast/lunch/dinner
A tool you really want
A new poster for your favorite movie
A species on campus you haven't seen at home.
The bottom of your foot
A familiar subject from an unusual perspective
3 Things in your bag/purse/pocket
Favorite clothing item/accessory you have with you after you've worn it all day
What you realize you're "looking" at after you've been spaced-out in class
A container/packing material that's more interesting looking than the thing it's housing
Something you wish you were better at
A 3 to 5 frame "comic" style image of what you do to "get ready" in the morning
Draw the 3rd most recent photo taken on your phone (not one taken intentionally for this prompt)
Create a flag for yourself using only line, shape, pattern, and/or color
Draw something discarded that you find on the ground (natural or man-made)
Draw a beverage while you enjoy it!
Again, please be creative with how you interpret this prompts and how you express them in your p